News
/ Everything Up: Altcoins Track Bitcoin (BTC) Record
Everything Up: Altcoins Track Bitcoin (BTC) Record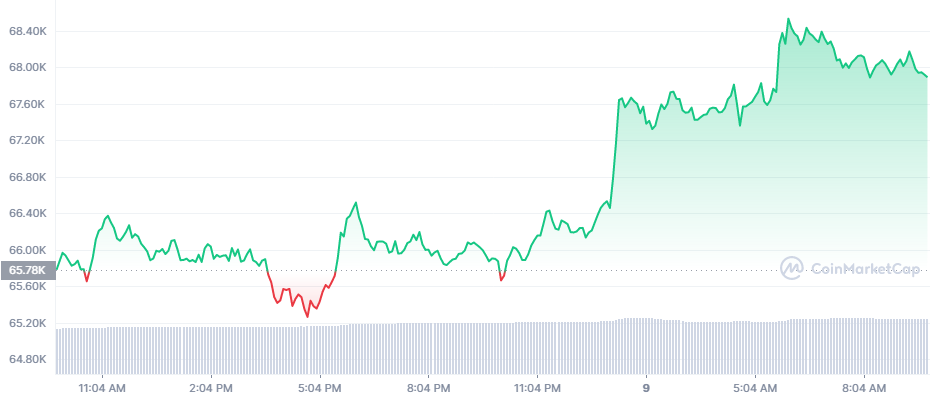 Bitcoin (BTC) managed to recover its all-time high and push to a new price record above $68,500. The leading coin is now expected to continue with price discovery, driven by spot demand and a rush into a potentially appreciating asset. 
BTC climbed rapidly to peak at $68,530.24, extending the gains from Monday. The optimistic attitude sees BTC attempt the $80,000 range, possibly breaking out to six figures.
As with previous rallies, this one also gets powered by online hype. Additionally, leverage is climbing once again, as the more active price moves invite bets on both long and short positions. CryptoQuant data shows a return to leverage on most leading centralized exchanges.
In the past 24 hours, more than $227M in leveraged positions were liquidated, still a fraction of the value of earlier record liquidations. Most of the liquidations affected short positions as some expected a reversal after BTC revisited its $67,000 yearly all-time high.
Binance Prepares for Taproot Upgrade
One of the biggest Bitcoin network changes, the Taproot upgrade, is expected this November 14. The Binance exchange will support the upgrade in its custodial wallets. Binance will handle the technical requirements after miners produce block 709,632, and warns that no new type of asset will be created. 
BTC trading will not be halted during the time of the upgrade, Binance announced. The Taproot upgrade will allow for transaction batching and veiling, and will open an easier option to create smart contracts on the Bitcoin blockchain.
The Bitcoin hashrate is near an all-time high at above 164 EH/s, suggesting the network's growth and competition have almost recovered from the Sichuan ban this May.
ETH Tracks the BTC Rally
Ethereum (ETH) set out on a rally of its own, pushing above the $4,800 level. However, the fiat price denomination reflects the rise in BTC prices. ETH itself is sliding toward 0.07 BTC, losing positions against the leading coin.
The behavior of ETH is similar to that of some altcoins, which rally in dollar value but slide against BTC. ETH reached a peak at $4,831.58 in the late hours of Asian traders activity before sliding back closer to $4,800. 
The coincidence of both BTC and ETH peak prices also shows the market has enough energy to support both the leading coin and a growing sector of decentralized finance and applications. ETH and the collection of smaller altcoins close in on the BTC market cap.
Price Rally Reaches Older Coins and Tokens
After months where most of the actively rallying assets were part of the latest generation, the most recent BTC record coincided with a re-awakening in forgotten markets. Previous leading coins, which have now fallen to a lower market cap, lined up among the most actively growing ones on Tuesday.
Dash (DASH) is up more than 12% overnight, recovering to $224.56 and closing the gap with its yearly high above $279. EOS added another 10% to $5.14, and Litecoin (LTC) is up more than 14% overnight to $244.11. VeChain (VET) is at $0.18, closing in on its previous yearly high at $0.25.
For now, Solana (SOL) has stalled with little daily change, trading above $246. The asset has lined up among top gainers for 2021, but its daily performance is more volatile. SOL rallied while other assets lagged, and now remains less active as more attention is pointed at BTC.
Sentiment Switches to Extreme Greed
The Bitcoin Fear and Greed index spiked to 84 points, suggesting "extreme greed", based on trader behavior. BTC remains less volatile historically, but the recent price moves are setting expectations for an even greater upcoming rally.
The recent price level also creates the conditions to boost the BTC price to $69,420 – a meme-based price that may also get realized in reality. Despite its relatively high liquidity, BTC remains open to social media influences affecting the short-term price.
Tether Printing Ups the Pace
For the past two weeks, the supply of the USDT stablecoin has not stopped expanding. Within hours on Tuesday, around 800M USDT entered the markets, closely coinciding with the BTC price rally.
The supply of USDT has now reached a record of 78.3B tokens, remaining one of the most important sources of liquidity for BTC. USDT is still at around 53% of the entire supply of dollar-denominated stablecoins.
USDC is another important addition to market liquidity, and has expanded to above 24% of the supply of stablecoins. USDC is now at position 10 by market capitalization, aggregating more than $34.2 billion equivalent. Usage of USDC also requires the creation of a non-anonymous account with KYC, and the asset is considered one of the more transparent stablecoins.