News
/ Is Cardano (ADA) Ready for Another Bull Run
Is Cardano (ADA) Ready for Another Bull Run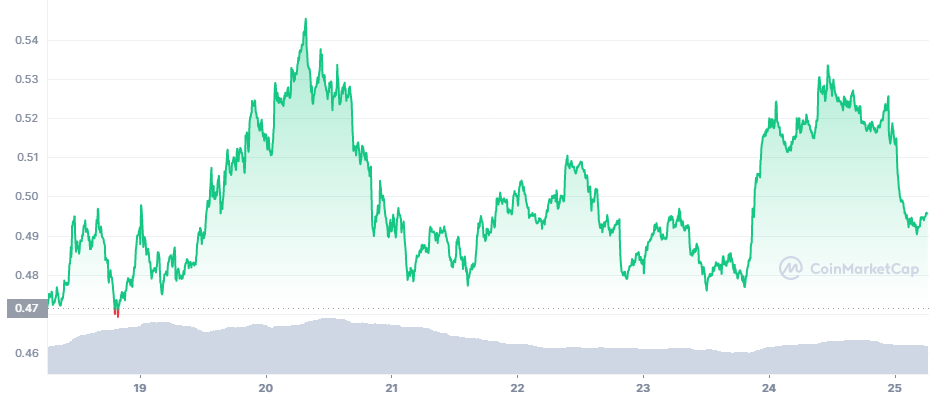 Cardano (ADA) is repeating the usual pattern of running hot while the rest of the market is taking a breather. For years now, Cardano has been setting expectations for growth. But the network also lags the major trends in DeFi, gaming, NFT collections and Web3 projects.
ADA has its own market cap dominance tracked, and is responsible for 1.6% of the entire crypto market, on par with other top 10 tokens. ADA is one of the tokens expected to outperform if the crypto market returns to a bull run.
Despite this, ADA is enjoying periodic trading revivals, mostly due to its low price which may run up a significant short-term gain. ADA is once again up 9% in a single day, recovering to $0.52. ADA benefits from the stability of BTC, as well as demand for the fast appreciation of altcoins. Once BTC slid under $22,000 again in the new week, ADA followed, retreating to $0.49. ADA also fell out of the top sixth position by market cap and slid to the eighth spot.
ADA rallied just as Polygon (MATIC) completed a similar recovery, adding about 100% to its price within weeks. With the high liquidity of ADA, pumps remain a possibility. ADA also quickly gains social media exposure and adds hype to its price action.
ADA is near a one-month high, though the $0.50 range has been easy to recover in the past few weeks. The leading activity is on the Binance trading pair with ADA/USDT liquidity, which takes up more than 13.8% of all price action. ADA has a relatively high liquidity score of 782 in that trading pair, allowing for more active trading with more limited slippage. 
Cardano Adds Tokens, NFT
Cardano is slowly building up its list of side projects. Tokens have already arrived, though with lower publicity compared to Ethereum's token base. 
For now, Cardano holds around $135.7M according to DeFi Llama statistics, a far cry from the TVL on other networks. But Cardano also skipped the worst of DeFi liquidations and exposure to bad credit taking down multiple protocols. 
ADA is also used as a tool to promote NFT collections and has raised demand as a way to pay for new NFT mints. New mints are highly risky, but they create hype for the opportunity to participate in a project that becomes highly popular, allowing for a resale of the rarest NFT.
ADA Used for Payments
Cardano now has its native payment app, using ADA to transfer value. ADA Pay is a new plugin designed to use ADA as electronic cash.
The Cardano network has a constant flux of around 59K active wallets per day, down from a peak of 138K wallets at the end of 2021. The biggest ADA activity is still seen during periods of more significant price action.
Cardano Gets Close to Issuing Stablecoin
One of the more significant moves is the idea to launch a Cardano-based stablecoin. This move is similar to TRON, which created USDD. Creating algorithmic stablecoins can increase the notional value in the ecosystem, but is highly risky if the collateral is unstable.
The DJED stablecoin, as it will be known, will partner with multiple projects within the ecosystem and is just weeks away from launching.
The idea of DJED is to hold a reserve and improve it by trading, to remain over-collateralized. The DJED protocol will buy stablecoins from users that want to divest them, while assuring no deviation from the dollar peg. The goal is to hedge the risk and have enough crypto assets on hand to honor all DJED holders.
Cardano Expects Long-Awaited Hard Fork
One of the talks around Cardano concerns the Vasil hard fork, a proposal to scale the network. Cardano still carries around 100K transactions per day, but may attempt to scale for future network load.
The immediate effect of the Vasil hard fork is that it adds to the ADA hype, and may lead to a rally once the deadline is announced.
The goal of the Vasil hard fork is to improve propagation of new block data between nodes even before the new block is verified. This will allow for even faster transaction confirmation.
Can ADA Slide to Lower Levels
In the past few weeks, ADA has stalled on its rallies, failing to recover the $1 level. Despite bullish expectations for 2022, ADA remains stagnant. The current price move may result in a rally, but there are also bearish signs for dropping to a lower range. Despite the recent upward move, ADA traders may have received signals to sell.
ADA aims to build a bigger community, with airdrops and faucets available. The Cardano Foundation also aims to reach more users, with a new project incubator and reach out to end users.