News
/ Bitcoin (BTC): Both Bullish Moves and Slides Possible
Bitcoin (BTC): Both Bullish Moves and Slides Possible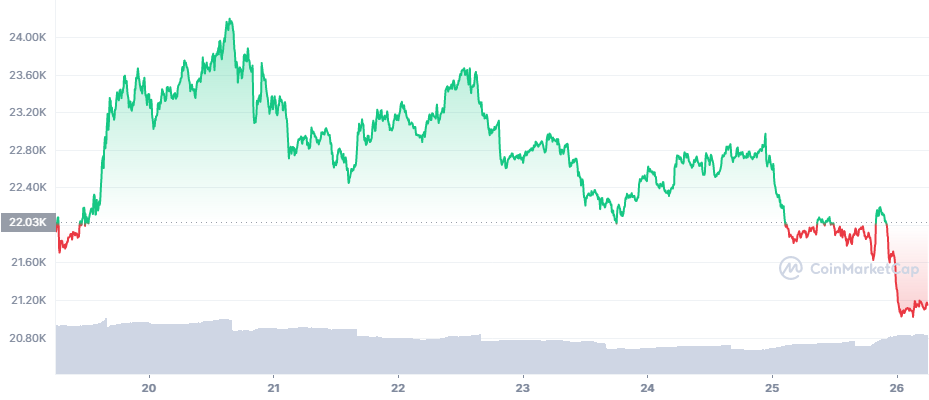 Bitcoin (BTC) remains capable of rapid moves both to the upside and to a lower range. The next move for BTC is envisioned as possibly regaining levels above $25,000, while attempting a breakout to $28,000.
On Monday, BTC stalled just under $22,000, still stopping short from a bigger breakouta even during European and US trading hours. BTC remains flat in the past week as the price tries to pick the next move. Early on Tuesday, BTC traded at $21,257.06.
However, short-term relief rallies may be followed by more unraveling as the market remains unpredictable. For the remainder of 2022, BTC may also continue its bearish trend, revisiting lower levels. During the latest downturn, BTC still did not manage to break down under $16,000.
All price moves may become amplified, due to panic or automated trading. Both the relief rally and the downturn can extend even more, revisiting another price range. BTC volatility has increased to 5.29% in the past month, above the usual 3.5%, with both downside and upside amplified. BTC moves within a few hundred dollars in a single day, extending the range more during weekends. In the past two months, BTC volatility was also up on average to 4.24%.
BTC trading volumes also fluctuate, moving between $25B and $42K. A small shift in activity can lead to significant price fluctuations. Diminished leveraged trading also affects BTC price movements, with smaller liquidations in the past few days.
BTC also remained relatively resilient, not dipping under $20,000 even during a low-volume weekend. For the coming days, the challenge to the price will be to break out of its stagnant levels. BTC remains in a bear market, and has not managed enough upward momentum to negate that trend for the longer term. The leading coin also shrank its dominance to 41.5%, down from above 42.6% a few days ago.
BTC Looks Set for Relief Rally
BTC has managed to hold off sinking under $20,000 for weeks now. Miner capitulations are already behind, and there are signs of building a stronger price base before an eventual rally. Glassnode data show increased gas fees and usage in the past weeks.
BTC also went through retail and big buyer capitulations, with realized losses reaching their peak around July 18. Those were also minor signs of a market bottom, though not a guarantee for beginning an upward trend.
ETH Tries to Keep the $1,500 Range
The overall market health is not only about BTC, but about Ethereum (ETH) as well. DeFi and decentralized trading are still around, and a higher ETH range is helping the ecosystem rebuild itself.
ETH fell on Tuesday, down to $1,428.89, with trading volumes around $19B in 24 hours. The value held in ETH-based DeFi projects expanded to $42.56B in notional value, though still raising questions on the health of the market.
Ethereum is also highly important as a venue for NFT transactions. Despite competition from Avalanche, Solana, Polygon, Cardano and other platforms, Ethereum NFT retain their high profile. Gas usage retains its value and shows growth in the past months. 
NFT are here to stay, despite fluctuations and price crashes for specific collections.
The Ethereum network also awaits its merge into the Beacon chain, which will switch the token to proof-of-stake, doing away with mining. But this will be only 50% of the completion of the new scalable ETH, as Vitalik Buterin suggested. The project's co-founder is yet to introduce shards as a scaling solution.
Altcoins Remain Risky
Seeking fast gains remains highly risky in the current market. Altcoins have achieved higher short-term rallies, but readily return to their previous levels. 
Cardano (ADA), the most recent asset to rally, stalled at $0.49, while other altcoins lost between 5% and 10% overnight, returning to their current baseline.
Uniswap (UNI) was the day's most active token, rallying above $7.50 after adding 5.62% to its price. Uniswap reveals demand for decentralized trading, and the exchange continues to develop without KYC requirements. UNI reflects the growth of the exchange's influence, and saw its price in the green despite the overall market setback.
At this price range, UNI is receiving calls for shorting, as the rally may be peaking. UNI has no new fundamentals to add to its price, hence the short-term speculation.
The Unisap DEX still reports above $75B in decentralized trades, with price discovery based on an algorithmic formula. Currently, Uniswap uses the Optimistic ecosystem, which is a L2 solution to Ethereum scaling. Previously, even simple swaps on the exchange could run up significant ETH gas fees. UNI is among the top tokens in the Optimistic ecosystem.