News
/ Dex Launch Pushes Elrond (EGLD) to Break $500
Dex Launch Pushes Elrond (EGLD) to Break $500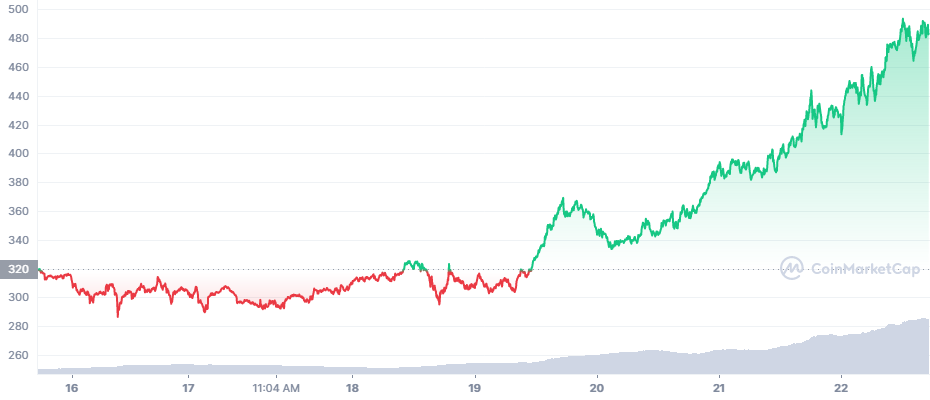 Elrond Network (EGLD) reached peak valuation at $484.67 after a rapid breakout late on Monday. Over the course of the Asian trading session, EGLD extended its gains to $510.80. The recent rally, boosted by all-time high volumes, pushed EGLD to position 23 based on total market capitalization, and singled out the project as one of the booming DeFi tokens.
The immediate reason behind the rapid rally was the long-awaited launch of the Maiar DEX, turning Elrond Network into one of the potential hubs for liquidity.
Elrond Network has appeared relatively late in the game, starting off as an Initial Exchange Offering (IEO) on Binance Launchpad. Since then, the network has managed to bring in projects from almost all new areas of development, including DeFi, NFTs and potentially, DeFi gaming. The Elrond Network also serves as a platform for minting NFT collectibles, with regular new drops happening almost daily.
EGLD Grows Project Ecosystem
The native tokens of decentralized exchanges, such as Binance Coin (BNB), ETH and others usually move higher after becoming an important source of liquidity. With more EGLD locked in decentralized trading pairs, the market price may establish itself at a higher range.
The project has managed to fulfill the expectations for rapid development, potentially lining up among leading platform coins.
According to DeFi Lama, an aggregator of decentralized data, Elrond now carries more than $1.69B in value equivalent. The rapid growth happened around November 19, after the Maiar DEX trading pairs started to take off.
Elrond has rapidly become the tenth largest protocol in terms of value locked, still behind Solana (SOL) and larger networks. But the rapid growth of value shows there is continuing demand for alternative project expansion.
EGLD Tracks Play to Earn Expansion
EGLD is one of the few tokens to rise rapidly and go against the market, where Bitcoin (BTC) and other assets took a step back. 
The EGLD trading pair is relative inactive on the Binance exchange, as top positions are taken by assets with a lower per-unit price. Currently, hot tokens include Avalanche (AVAX), The Sandbox (SAND), Gala Gaming (GALA) and Decentraland (MANA).
Elrond Network has already attracted its first launchpad project, Holoride, and expects to add to its growing list of curated token sales. The ongoing public sale ends on November 23, and may further add to the visibility of the Elrond platform.
Is EGLD Easily Accessible
The EGLD token is an entirely new standard with a proprietary blockchain. EGLD can be recreated on Binance Smart Chain, and is thus accessible for Trust Wallet and the Binance browser add-on wallet.
But EGLD requires the creation of a new web-based wallet to access other projects.The new EGLD asset has been created after a 1000:1 reverse split, becoming the new native asset on the Elrond network.
Creating and keeping safe the EGLD wallet is done through a non-recoverable seed phrase and password. EGLD ownership, however, may be limited for some jurisdictions, as most trading and swapping for the asset is on the Binance exchange.
EGLD is also available for limited swaps and direct purchase through the Changelly service. The asset was also recently added to the Exodus wallet, offering no-KYC limited exchange possibilities.
How High Can EGLD Reach
Predictions for EGLD varied, with the most outlandish ones seeing the coin reaching four-digit valuations. EGLD is now in price discovery mode, and has to show if it can keep the new prices.
Elrond Network is yet to work on wider adoption and recognition, and with no mention of Coinbase trading, it may remain an asset restricted to Asian market activity and decentralized exchanges.
EGLD can be used to access the still rather new Maiar DEX token, MEX. The MEX asset is still in the stage of adding liquidity to its decentralized pairs.
Limited reports on pricing see the MEX token in early price discovery, with a $2.5B market capitalization. The launch of a decentralized exchange also immediately boosted the activity on Elrond Network.
Early CoinGecko data show MEX at around $0.00041291, with no established volumes yet. The asset may become an important addition to EGLD, though more difficult to acquire through centralized exchanges.
EGLD is engineered for a relatively high per-unit price. The asset is currently going through a buying spree, with signs of exchange wallets being emptied out.
There are only around 19M EGLD in circulation, with a maximum of a little above 31M coins depending on activity. EGLD also offers passive staking income through the Binance exchange, in a special token locking program. The staking mechanism may compete with the potential for liquidity mining on Maiar DEX.